Things Portugal is famous for
1. Portugal is famous for Port Wine
Also known as Vinho do Porto, Port Wine is a Portuguese type of red, sweet wine. It's one of the most famous drinks, in Portugal, produced in the Northern region.
2. Pastéis de Nata is Portugal's heavenly custard tart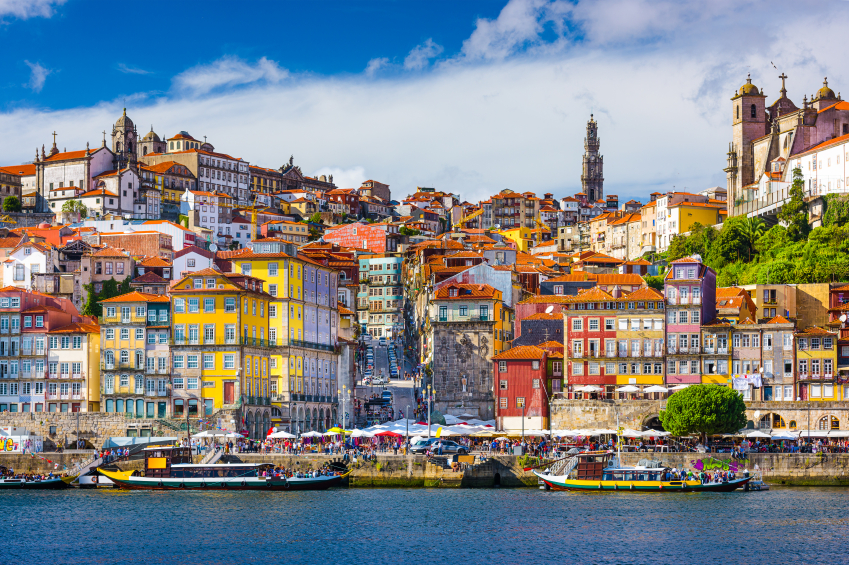 Pastéis de Nata is a delicious custard tart that's creamy on the inside and crispy on the outside. You can it in many bakeries around Portugal, but it originates from Lisbon where it's custom to enjoy a Pastéis de Nata with an espresso on the side as a light breakfast.
3. Bacalhau is on (almost) every menu in Portugal
"Bacalhau" literally translates into "codfish", and it's on many menus all over Portugal. There are more than 1000 different recipes in Portugal for how to cook codfish.  If you want to try something really Portuguese, then Bacalhau is a must!
4. Piri Piri Chicken
Piri Piri Chicken, also known as Frango Assado, is a super flavorful grilled chicken dish that originates from Algarve. It's basically a chicken slapped on a grill with piri piri sauce, which is made of chili and other goodies.
5. Portugal is famous for its colorful tiles
Portugal is known for having the most beautiful, colorful, and detailed tiles placed on the facade of the houses, which creates a unique look for each building. The tiles, which are also known as Azulejos, are basically tin-glazed ceramic tile- and artwork and can be found on official buildings, churches, schools and regular houses.
One of the best places to appreciate the beautiful tilework is in Lisbon's neighborhood, Alfama.
6. Portugal is a big football nation
Portugal is a huge football nation and they have several good players, among them being the popular Christiano Ronaldo. His right foot still holds the record for most scored goals on the National Team of Portugal.
7. Portugal is famous for its 7 wonders
Portugal made their own "7 Wonders" – a list of the most precious, cultural places in the country The list of the top 7 incredible places that Portugal is famous for, according to its own people:
Belém Tower

Pena Palace

Jerónimos Monastery

Castle of Óbidos

Alcobaça Monastery

Batalha Monastery

Castle of Guimarães
8. Portugal is known as one of Europe's oldest countries
The Kingdom of Portugal was founded on the 25th of July in 1139, which makes Portugal one of the oldest countries in all of Europe!nThere are so many great buildings, castles, monuments, and ruins that you can explore all over Portugal. And the history (of course) dates back to way before the kingdom was actually founded.
9. Lisbon has the oldest bookstore in the world
Livraria Bertrand is the oldest functioning bookstore in the world, being founded in 1732. It can be found on a shopping street in Chiado, Lisbon.
10. Fado music originates from Lisbon
Portugal is famous for having its own music genre, Fado, which is so different from other music genres. Fado translates into "Destiny" or "Fate", and is referred to as a melancholic "saudade", which means "longing." The music genre originates from the 1820s in Lisbon. It's a melancholic way of singing about the hardships of everyday life. It's often just one female or male singing to the sound of guitars.
11. Portugal is the biggest cork producer in the world
Cork is made from the bark of tree, and Portugal has the biggest cork tree plantations in the world. Therefore, it's common to find things in Portugal made of cork. You can even find stores that are dedicated to only sell handbags, shoes, and belts made out of cork!
12. The sun is (almost) always shining!
Portugal is known for having some of the best weather in Europe. In fact, Lisbon is the sunniest capital city in all of Europe!

13. Portugal has many famous explorers
Portugal played a big role in the Age of Discovery and is known for its many famous explorers. Together with Spain, Portugal dominated the 15th century and claimed many territories around the world. Portugal colonized several countries in Africa, parts of India, many islands in the Atlantic Ocean, and of course, Brazil.
Here are a few known Portuguese explorers:
Vasco da Gama was the first European to reach India in the late 15th century.

Pedro Álvares Cabral accidentally discovered Brazil in 1500.

Ferdinand Magellan was the first person to sail around South America
14. The world's longest pedestrian suspension bridge
The 516 Arouca Bridge is a suspension bridge, which is hanging 175 meters above the Paiva River in Northern Portugal. And as the name indicates, the bridge is a total of 516 meters long!
15. Portugal is known for its yellow trams
When many people think of Lisbon or Porto, they imagine the yellow trams. It has even become quite the tourist attraction to jump on Tram #28 in Lisbon as they're often filled to the brim with tourists wanting a ride.
16. Portugal is famous for surfing
There are several good surfing spots in Portugal, but nothing quite beats Nazaré. In fact, Nazaré has some of the biggest waves on the planet, which can go up to 30 meters!
17. Portugal is one of the world's best golf destinations
Portugal has won the award for the "Best golf destination in the World", multiple times! Especially in the Algarve region, you'll find some incredible golf courses and resorts.
18. Portugal has some of Europe's best beaches
With great weather and a 900+ kilometer long coastline, Portugal has some of Europe's best beache, the most popular ones being located in the Algarve region.
Source: https://wowiwalkers.com/what-is-portugal-famous-known-for/